Free Smartphone App Works with Garmin 360, Action Cameras and Automotive
Easily view and edit 360 videos, add 4K spherical stabilization, watch footage in VR mode and add augmented reality G-Metrix

™

 

data overlays (available only on VIRB 360).
360 and action camera remote control: Stop and start recording, configure settings, and preview your shot live (even in 360).
Built-in sensors and GPS capture G-Metrix™ data to prove how far, how high and how fast you went; automatically highlights clips using G-Metrix for fast viewing and sharing.
HyperFrame Director Mode lets users reframe the action with smooth pans, wide angles, and tiny planets from your VIRB 360 footage.
360 and action camera live streaming: Use the app to instantly livestream² to YouTube®

 

and Facebook®

 

Live on compatible Apple®

 

devices.
Simply post driving, 360 or action camera video footage to social media sites such as YouTube and Facebook.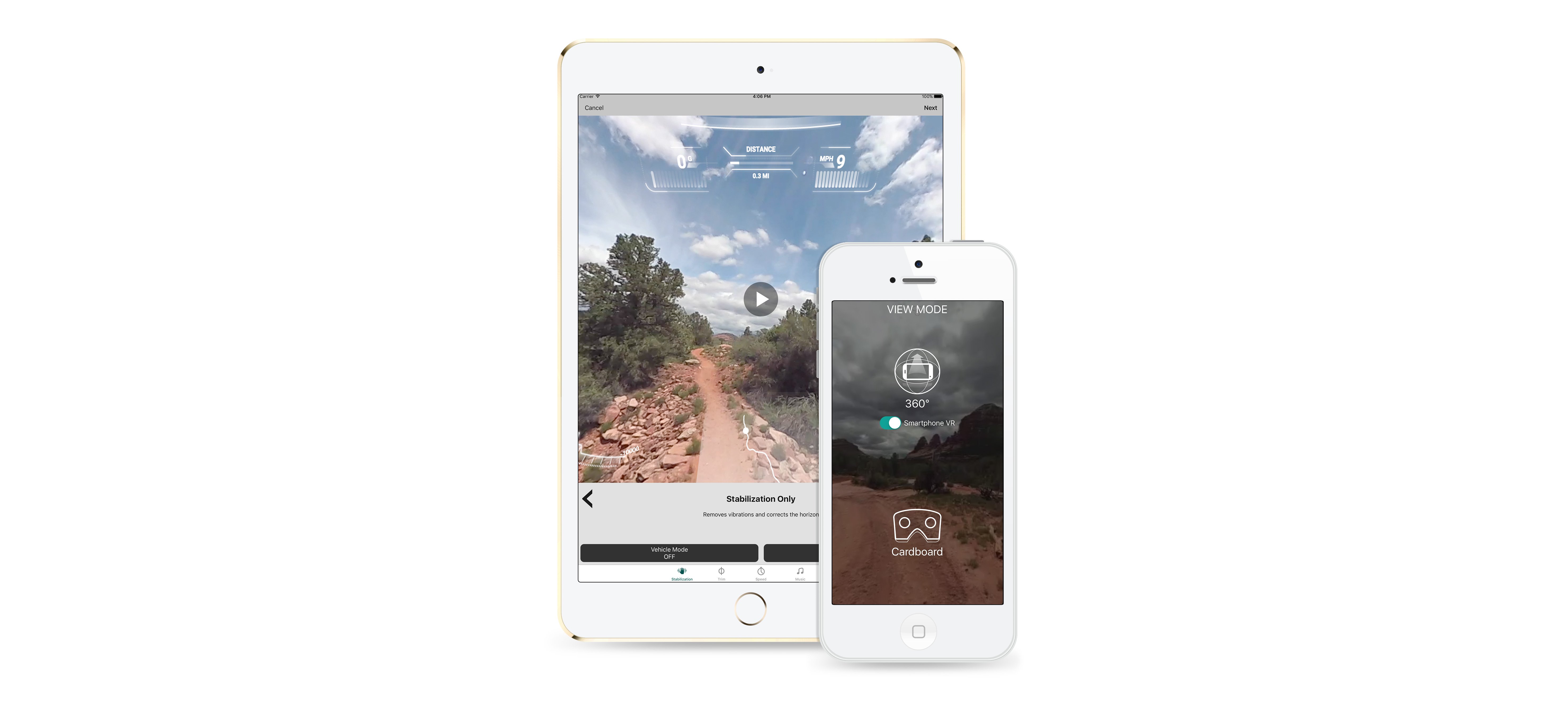 With the VIRB Mobile app, your compatible smartphone or tablet becomes a helpful companion for capturing and sharing life's incredible moments. The free app turns your mobile device into a wireless remote you can use to control your VIRB camera and instantly livestream on YouTube² and Facebook. Select Garmin automotive navigators with built-in dash cams can also be paired with the VIRB Mobile app, giving you the power to view, edit and share captured footage.
Stay In Control
With the VIRB Mobile app, there's so much you can do without leaving the director's chair. For example, setting up the perfect shot has never been easier. Preview live shots from multiple connected VIRB cameras right on your paired smartphone or tablet, and adjust as needed so you know what you'll be capturing when you start recording. Start and stop shooting right from the app, and snap a still picture while recording with a quick tap. You can even use the app to configure camera settings such as frames per second and resolution.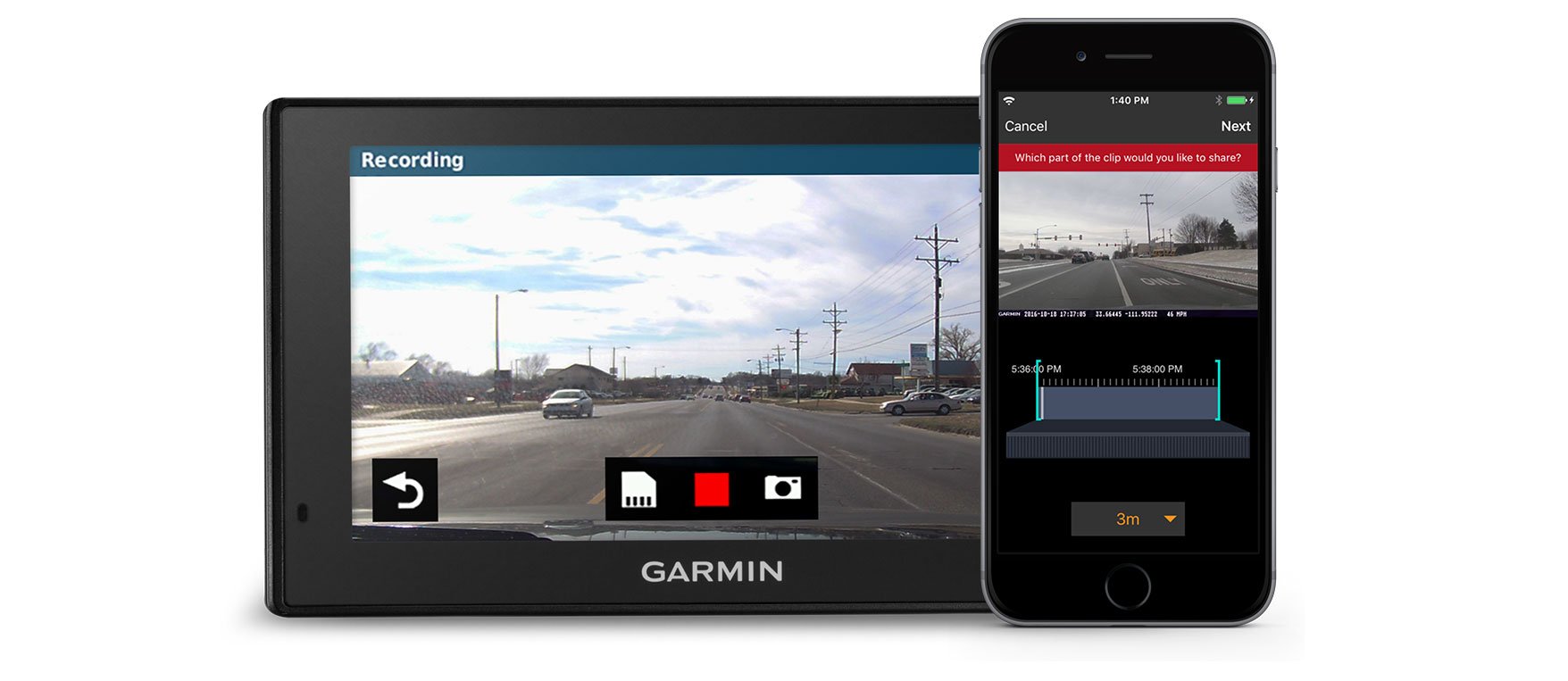 Capture and Relive Road Trip Adventures
The VIRB Mobile app pairs conveniently with select Garmin navigators and Dash Cam devices¹, making it simple to play back video footage on your compatible smartphone. You can also access easy editing tools that let you save, delete and crop video clips. Want to turn hours of driving footage into a fun, shareworthy video? The handy Travelapse™ photo capture feature, accessible through the device menu, will record your full drive and provide you with a short video recap of the trip. When you're ready to share your road trip adventures, simply select the "Share" button, and post video footage to social media sites such as YouTube and Facebook.
Prove How Intense the Adventure Was
Built-in Garmin GPS and sensors track movements in real time and display animated gauges and graphs showing data like speed, altitude and g-force so you can prove how far, how fast and how high you went. Your camera collects this G-Metrix data, and you can use the VIRB Mobile app to select the data you want to see. Choose which G-Metrix overlays you want to show on your footage and what story you want your video to tell.
Instant Livestreaming
Broadcast your adventure to the world with just a few touches on the VIRB Mobile app. With a data connection and a YouTube account, you can stream your footage in real-time — right from your phone². Now, family, friends and fans don't have to miss a moment of the action.
Make Quick Edits
For those who like to edit on the fly, the VIRB Mobile app provides the convenient features you need. Quickly and easily trim your clips to the most interesting parts with automatically detected highlights. Simply add slow motion, mix in some music, and share to Facebook, YouTube and more. Another way to share is through the Garmin Connect™ Share site, which lets you integrate your VIRB video footage into your Connect dashboard and stats. Share with your friends in the Garmin Connect™ online community. For a complete editing suite, check out VIRB Edit®.
View and Edit
Use the VIRB Mobile app to view and edit your VIRB 360 videos. The 4K spherical stabilization feature lets you apply 1 of 3 stabilization modes with 1 click to ensure smooth footage regardless of camera movement. Stabilize mode smooths quick movements and vibrations without overriding camera orientation. Use lock mode to secure the orientation of the camera in a specified direction. In follow mode, the orientation follows the GPS trajectory. It's 360-degree video stabilization like you've never seen, and it can be applied to any footage with 1 click.
HyperFrame Director Mode
HyperFrame Director Mode lets users create beautifully stabilized traditionally framed "flat" content out of their high-quality spherical footage. The easy-to-use and flexible mobile app lets you re-frame content after filming, using smooth camera pans, impressively wide angles, and tiny planets.
G-Metrix Data Overlays
You can also easily add customizable G-Metrix™ 360-degree data overlays from built-in GPS and sensors. Connect an NFC-enabled Android™ smartphone to the camera with just 1 tap of your phone on the camera. Use your Apple® or Android device as a remote control for the camera, view and pan around live 360-degree video of what you're recording, use a virtual reality (VR) device to instantly view your 360 videos in VR, or livestream to YouTube® and Facebook® Live using an Apple device.