Connect for a Better Drive
Wirelessly pairs with select Garmin navigators to seamlessly share phone content with your navigator.
Access free Garmin Live Services¹ such as live traffic, live parking² and basic weather information.
Send address details from phone contacts to navigator, then easily route to the desired location.
Paired navigator displays smart notifications from your phone, including text messages, calendar reminders and app alerts.
Purchase premium Live Services in app, including photoLive traffic cameras and more.
Smartphone Link is a free app that allows your compatible Garmin navigator to wirelessly connect with your compatible Bluetooth-enabled smartphone. Once connected, drivers get access to many additional features to assist with their journey.

Smart Notifications
Once your navigator is wirelessly paired to your compatible phone, you can conveniently receive smart notifications from your phone right on your navigation display. View text messages, calendar reminders and other alerts from your favorite apps while your phone remains safely stowed away as you drive.

Guidance From Your Smartwatch
What_x0092_s more, select Garmin navigators* wirelessly pair with any Garmin Connect_x0099_-compatible smartwatch (sold separately). After they_x0092_re paired, you can receive navigation right on your wrist after parking your vehicle and walking toward your destination. Also, Watch Link lets you receive helpful driver alerts on you watch, such as alerts for upcoming school zones and more. Don_x0092_t worry about losing your car in a crowded parking lot or on a side street several blocks away from the venue you visited; your smartwach provides compass guidance from your parked vehicle to your destination and back to your vehicle again.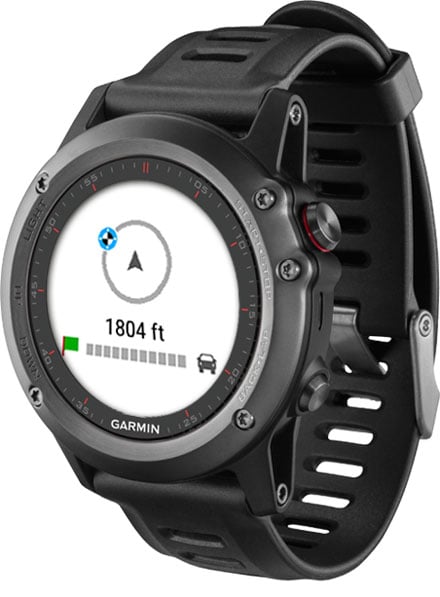 Address Sharing
Smartphone Link can even extract address details from your smartphone contacts and seamlessly send the location information right to your navigation device. When your navigator receives the address information, it will route you to that address if you want.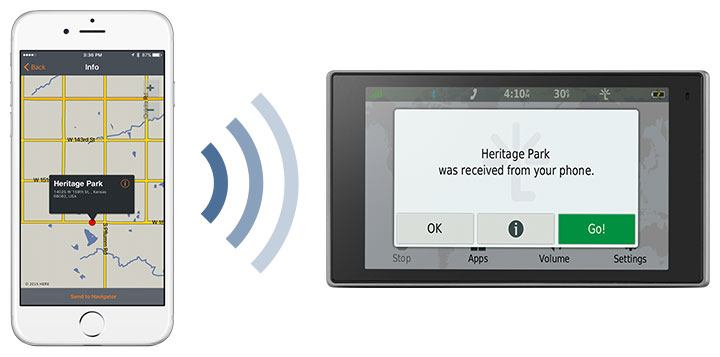 Garmin Live Services
Access Garmin Live Services for real-time information you can use on the road. Garmin Live Services provide the most up-to-date _x0093_live_x0094_ information to your Garmin navigator using your existing mobile data plan. There_x0092_s no need for an additional data connection. Some services are included when you connect to Smartphone Link. Other services within the app are available through optional paid subscriptions offering premium content and enhanced features. To receive data relevant to your location, Garmin Live Services require your current GPS location be shared with Garmin and Garmin partners.
Live Traffic
Avoid traffic delays and find time-saving detours with up-to-date traffic data.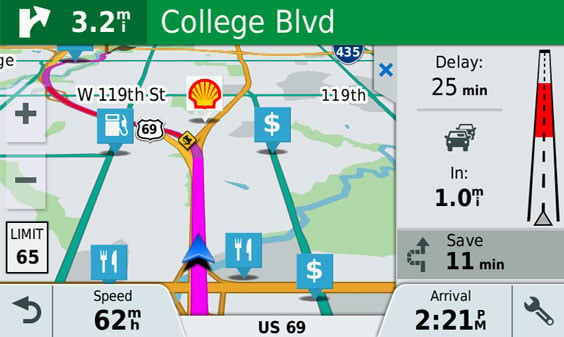 Live Parking²
Save time, and take the stress out of parking. View helpful parking information, including pricing and availability trends for on-street public parking, as you approach your destination.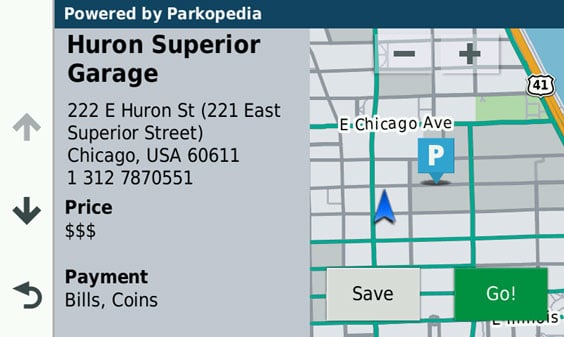 LiveTrack
LiveTrack lets you share your location so friends can track your whereabouts _x0097_ whether you_x0092_re running errands around town or taking a long road trip.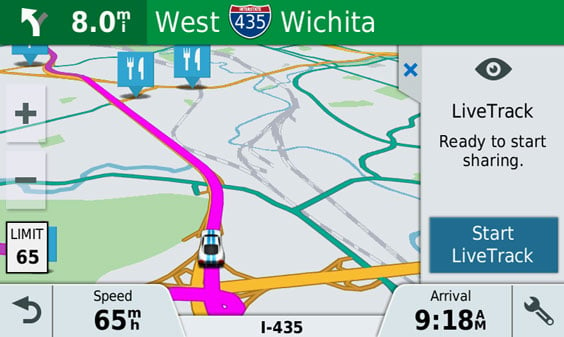 Weather
View basic weather information such as forecasts, current conditions and more.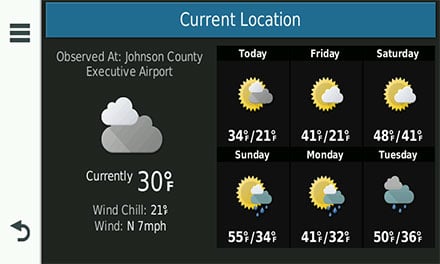 Last Mile
This feature remembers your parking spot and shows your destination so you can find your way on foot and back again.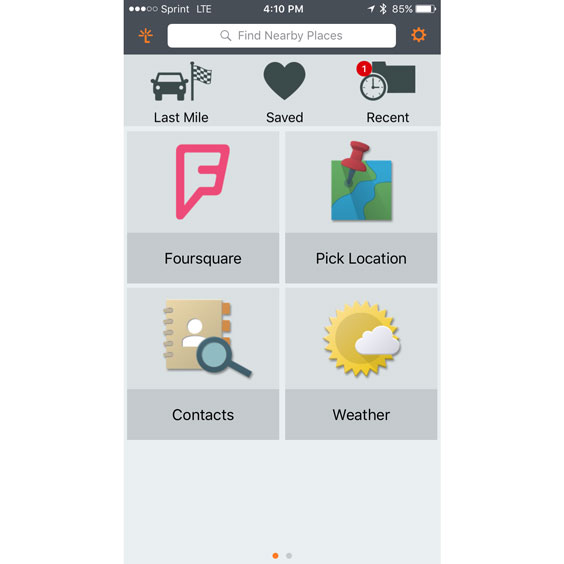 Dispatch and Track for Truckers
dezl 580 LMT-S comes preloaded with a simple truck monitoring solution². Easily track drivers and send communications, such as a text message containing a delivery address. Your driver can select the address from within the text message and seamlessly route to the destination. From the menu in the dezl navigator, select the Dispatch and Track icon to set up.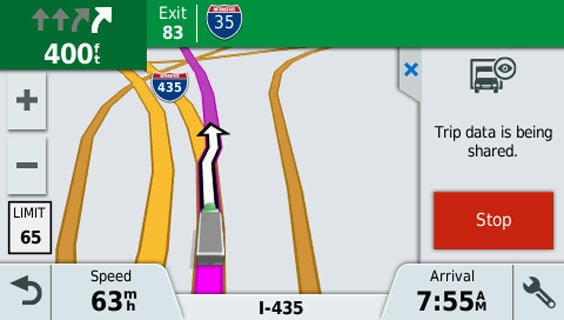 NOTE: Continued use of GPS running in the background can dramatically decrease battery life.
Premium Live Services
A 1-time purchase may be required for premium content.
photoLive Traffic Cameras
Avoid traffic delays and find time-saving detours with up-to-date traffic data.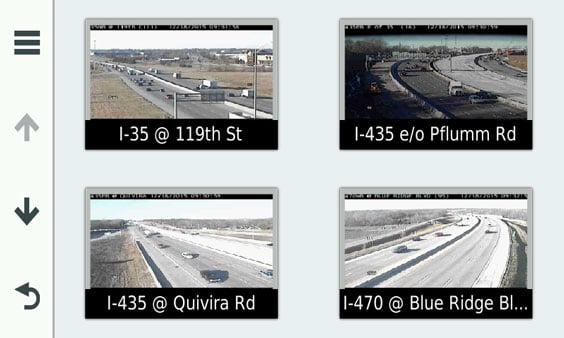 Advanced Weather
Includes advanced weather data, including live weather radar and severe weather alerts.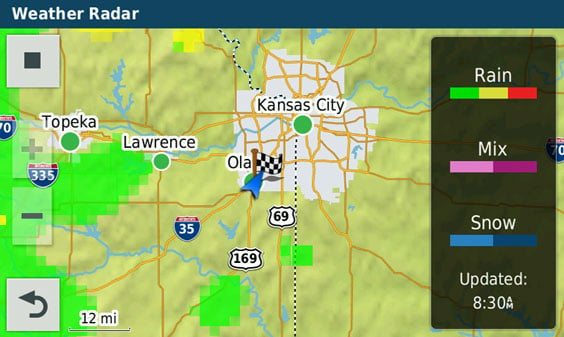 Dynamic Off-street Parking
Find parking close to your destination, including the number of spots available and current cost (free for North America).